Family Programming
Our family programs allow families a time and a place to come together to have a good time; participate in a variety of fun activities; share, communicate and strengthen their relationships; and meet other families. The Y has always been a place where families can play and be active together, and that's more important than ever. Whether the activities are physical like sports or exercise classes, or more recreational like swimming, games, dancing and arts, Ys want families doing them together because you'll live healthier and make memories for a lifetime.
TALK. CONNECT. PREVENT.
A SUBSTANCE USE PREVENTION INITIATIVE
THE INITIATIVE
New Jersey YMCA State Alliance, in collaboration with The Horizon Foundation for New Jersey and Partnership for a Drug-Free New Jersey, is introducing a new initiative designed to encourage and support parents in having meaningful and effective conversations with their children to prevent drug use.
Launching November 2017, this effort includes information regarding substance abuse, tools such as a parents guide and conversation starters, as well as resources where families may obtain additional information and counsel. Materials are available at YMCAs throughout New Jersey. The program is intended to use the Night of Conversation, a national drug prevention initiative started by Dr. Mehmet Oz in 2015, as a springboard to encourage meaningful conversations between parents and their children throughout the year. A drug prevention video featuring Dr. Oz is also included in our materials.
As a charitable organization, the Y is focused on youth development, healthy living and social responsibility. Supporting parents and the community in their efforts to raise healthy, confident, connected children is core to the Y's mission to help all people grow in spirit, mind and body.
THE BACKGROUND
Early in 2017, the New Jersey Legislature passed a joint resolution that was signed into law, designating a Night of Conversation in November of each year. The purpose of the law is to create awareness about substance use and to help families initiate conversations about drug and alcohol addiction. While the Night of Conversation helps to bring this issue to the forefront of parents' consciousness, New Jersey YMCA State Alliance, The Horizon Foundation for New Jersey and Partnership for a Drug-Free New Jersey wanted to do more, to not only start the conversation, but sustain it throughout the year.
The brochure below highlights the Initiative and talking points for families to approach the subject with their children. A full list of talking points can be accessed here.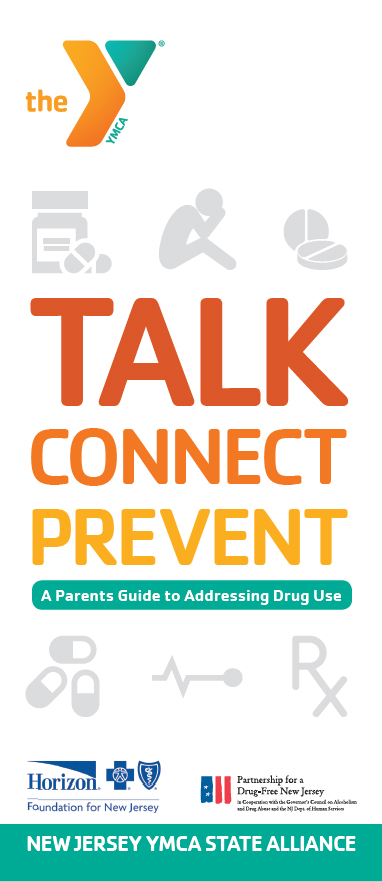 Got picky eaters? Try the HEPA Passport and help your kids become a "Polite Bite Chompion"