Published: January 8, 2021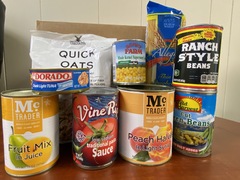 As it has through much of the current pandemic, the Cumberland Cape Atlantic YMCA is offering free food boxes to the public. These are available through a partnership with the New Jersey Y Alliance and the Community Food Bank of New Jersey. The goal of this partnership is to provide boxes of nonperishable items to those in our community who are in need. Anyone who is interested is requested to participate when possible, as quantities are limited. This service is open to all.
Cara Morello, the local Y's senior director of Administration/Operations, said, "We will host a variety of pick up days throughout the month of January. You do not need to be a member of the Y to participate, so please share this information if you know someone in need! Our Y is happy to continue this program, as we know that there is a need for it."
Upcoming pick-up times are:
Friday, January 8, 1:00pm to 4:00pm
Tuesday, January 12, 10:00am to 12:00pm
Thursday, January 14, 3:00pm to 6:00pm
Monday, January 18, 9:00am-12:00pm
Friday, January 22, 1:00pm to 4:00pm
Tuesday, January 26, 10:00am to 12:00pm - Limited Supply!
Wednesday, January 27, 2:00pm to 5:00pm - Limited Supply!
Morello continued, "When you arrive, pull up in front of the Y (just past the front doors) and a Y staff member will meet you at your car with your food box. No need to even get out of the car! We can place your food box directly in your trunk or backseat."
She added, "Box pick up is first come, first served. One box per family is available at this time. You may pick up an additional two boxes for friends/family or neighbors who are unable able to come."
The program may continue beyond January. Updates will be available on social media or by calling the YMCA at (856)691-0030. The Cumberland Cape Atlantic YMCA is located at 1159 East Landis Avenue, in Vineland.