Published: September 22, 2023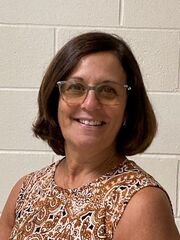 Lisa Tobolski has been named to the Cumberland Cape Atlantic YMCA Board of Directors. A Vineland native, she is a retired educator. Her new term begins with the September Board meeting.
Kathy Farinaccio is the president of the Y's Board of Directors. She enthusiastically welcomed Tobolski, saying, "Lisa will be a real asset to our Board. Her experiences as an educator, community member, and parent will be greatly appreciated."
Tobolski said, "I was born and raised in Vineland, and it's time to give back to this community. I believe that I have knowledge that I hope can be helpful to the Y.
"I am amazed at the growth in the Y's services over the years. The building has been impressively expanded and updated, too," she noted.
The new Board member holds an Associate's degree from what is now Rowan College of South Jersey. She is also a graduate of what is now Rowan University. While studying for a degree in early Childhood Education, she completed a practicum at the YMCA.
Her professional experience includes kindergarten teaching and work as a Preschool Intervention and Referral Team Specialist. In the latter role, she worked closely with teachers from the YMCA preschool classes overseen by the Vineland Board of Education. In 2015, she was a recipient of the Governor's Education Services Professional of the Year Award.
Tobolski volunteers with the Vineland Challenger Baseball organization as well as with her church's food pantry. Her husband, Thomas Tobolski, Sr., is the owner of Garrison Enterprises, a utility contractor. They have three children, Allison, Thomas, and Matthew.