Published: October 5, 2023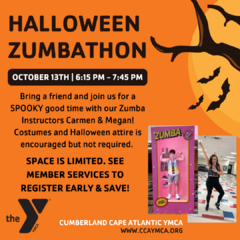 Celebrating fitness and Halloween will go hand in hand at the Cumberland Cape Atlantic YMCA's upcoming Zumba-Thon. This will be held on Friday, October 13 from 6:15 to 7:45 p.m. The public is invited to participate, whether new at Zumba or experienced. Spaces are limited. Light refreshments will be offered.
Costumes are not required, but they will be welcome. The best costume will win a special prize.
Child Watch will be available with no fee from 6:00 to 8:00 p.m. Parents must reserve a spot in advance for each child. Kids aged two to ten are welcome. The location will be the Child Watch room at the Y.
Registration prices are $20.00 for Y members and $25 for the public. Interested participants are encouraged to call the Y at (856)691-0030 or check ccaymca.org for details.