Published: November 17, 2023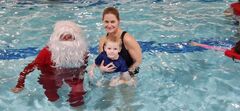 The Cumberland Cape Atlantic YMCA invites everyone to the annual Swim with Santa event. Families will be able to dive into a festive evening with Santa, including swimming, snacks, games, and crafts. This will be held on Friday evening, December 1, at the YMCA building's large, heated pool. The address is 1159 East Landis Avenue, in Vineland. Participants are asked to complete a registration form by November 30.
New this year are three registration options, all of which include swimming with Santa. For ages four and up are (option one) swim from 5:15 to 6:15 p.m. games from 6:30 to 7:10 p.m. and (option two) swim from 6:00 to 7:00 p.m., games from 7:20 to 8:00 p.m. The registration fees for a family of four are $15.00 for Y facility members, $20 for program members, and $25 for nonmembers. Registration option three includes swimming only and is for all ages. The fees are $10.00 for Y facility members, $15.00 for program members, and $20.00 for nonmembers. Additional guests are $3.00 per person.
Mary Desjardins, assistant Aquatics director, said, "Swim with Santa is a great family event. It's an annual tradition that goes back many decades at our Y, and we invite everyone to enjoy the evening. It's a wonderful outing and a chance to get great pictures with Santa!"
For additional details, please call the YMCA at (856)691-0030 or check www.ccaymca.org.