Published: November 17, 2020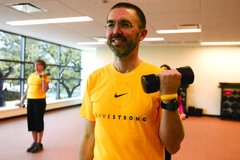 Programs related to diabetes, cancer, and blood pressure will begin soon at the Cumberland Cape Atlantic YMCA. Registration has begun; class start dates are anticipated to be within the next month. The classes are open to the public, and interested individuals are encouraged to contact the YMCA for details. Please visit www.ccaymca.org or contact Pam Heaton at pheaton@ccaymca.org or at (856)691-0030, extension 114 for additional information.
Diabetes Prevention is offered free, in a small group setting that runs for six months. For anyone at risk for developing diabetes, as many people in our area are, this class may be appropriate. The course has a proven history of improving participants' health. The next session is anticipated to begin during November.
Livestrong at the YMCA is also offered at no cost for those individuals who are looking to return to their "new normal" following cancer. Topics covered range from exercise to nutrition to personal support. Classes are now forming for this proven program.
Blood Pressure Self-Monitoring, a newer program, is the easiest one to start. As the title suggests, this program empowers participants to take control of blood pressure by supplying them with the tools needed to monitor blood pressure from home. This two-month programs begins with a brief appointment with one of our Healthy Heart Ambassadors and reviewing how to properly use a blood pressure cuff. Cuffs are available for purchase ($30.00). This low-cost program is $15.00 for facility members and $25.00 for program members and the public.
The YMCA observes strict cleaning and COVID-19 guidelines as indicated by local and other authorities. For more details, please contact the YMCA