Published: March 25, 2021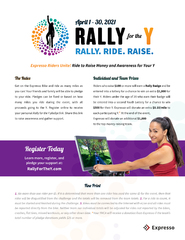 April 1 - 30, 2021
Get on the Expresso Bikes and ride as many miles as you can! Your friends and family will be able to pledge to your ride. Pledges can be fixed or based on how many miles you ride during the event, with all proceeds giong to the Y. Click here to register online to recieve your personal Rally for the Y pledge link.
Riders who raise $100 or more will earn a Rally Badge and be entered into a lottery for a chance to win an extra $1,000 for their Y. Riders under the age of 20 who earn their badge will be entered into a seconf Youth Lottery for a chance to win $500 for their Y. Expresso will donate $0.10/mile to each participating Y. At the end of the event, Expresso will donate an additional $1,000 to the top money-raising team.
Click the photo below to download the Rally for the Y Flyer!