Published: May 18, 2021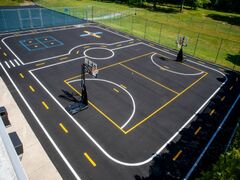 The Y's newest area is set to open on Wednesday, May 19th. The YMCA "Let's Play" Outdoor Fun Zone offers facility members a place outdoors to exercise and play games, for all ages! Starting tonight, facility members can participate in "Family Game Night" from 5:30-6:30pm. Members simply drive around the back of the building, park and you will be checked in by a staff person before proceeding through the gates. Once inside the "Fun Zone" you'll be able to enjoy a relaxed atmosphere of playing yard games, basketball, hopscotch and more. Yard games include cornhole, lawn darts, horeshoes, tic tac toe, mini gold, giant jenga and more. Games nights will run every Monday and Wednesday evenings from 5:30-6:30pm.
On Friday, May 21st, our first "Bike Night" will take place from 6:00-6:45pm. Members may bring their own bike and helmet, or the Y will have bikes and helmets available for members to use. Y bikes are perfect for youth ages 5-9 years old. Take a spin around our new "bike lanes" on the black top or try a hand at an obstacle course set up by Y staff. A fun night for families to get out and enjoy fresh air! Bike nights will run every Friday from 6:00-6:45pm.
Look for more information on Friday Family Nights, Water Play and more coming in June!