Published: June 21, 2021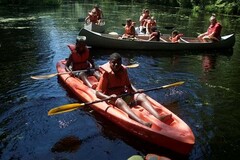 Summer camp can be a place to develop skills, confidence, and friendships. The Cumberland Cape Atlantic YMCA has a long history of giving kids great summers that can do all of that, plus make lasting memories. Registration is open now. The sites will be the YMCA facility on Landis Avenue in Vineland, Camp Merrywood in Pittsgrove, and Camp YMCA of Atlantic County at Jordan Road School in Somers Point. Sessions will run from late June to late August, depending on the site.
Camp times will be 9:00 a.m. to 4:00 p.m., Mondays through Fridays, at all locations. Healthy breakfast and lunch will be provided to all campers. The staff to children ratio is always low. The YMCA camps are licensed through the New Jersey Department of Health and Human Services. The YMCA strictly adheres to all local and state guidelines for COVID safety.
Camps will include a variety of healthy, educational, health-focused, creative, and enjoyable activities. There will also be weekly themes and special event days throughout the summer. At the YMCA, campers will be able to take advantage of the new "Let's Play Outdoor Fun Zone."
The Vineland camps include: Mini-Me, for ages three to five; Hiawatha, ages six to eight; Merrywood, eight to fifteen; Counselor in Training, sixteen to seventeen; and Summer Learning Loss, for kids entering grades two and three. Early and After Care will be available from 6:30 a.m. to 5:30 p.m.
In Somers Point, campers will be aged three to thirteen. Their camps will be grouped according to ages. Daily times including Before and After Care will be 6:30 a.m. to 5:30 p.m.
For details and registration packets, please visit www.ccaymca.org or call (856)691-0030. Third party assistance and state subsidies are accepted.