Published: July 22, 2021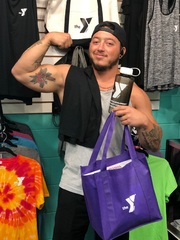 We kicked off the summer with a Grill on the Go Member Giveaway. We strive to keep our members satisfied with our facility, programs, and staff and always welcome feedback from our members. We recently surveyed our members and it was great to see so many are pleased with our cleanliness, safety, and maintenance of our facility along with the sense of community and friendliness of our staff. Member, Pete Polo, was randomly selected from the survey participants as the winner of our YMCA portable grill, insulated cooler bag, water bottle, tank top, and healthy snacks. Congratulations Pete! We thank all of our members for their continued support, loyalty, and commitment to healthy living.
Click here for more information on joining our YMCA or bring the family in for a tour.