Published: August 6, 2021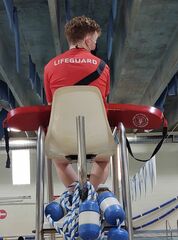 The Cumberland Cape Atlantic YMCA is planning to offer Lifeguard classes in mid and late August. This American Red Cross training course prepares participants to take a lifeguard position. It includes a prescreening and approximately twenty-four hours of virtual, in person, and on line class time. Participants must be able to swim and be at least fifteen years old.
Jennifer Helm, the Y's Aquatics director, said, "This program is perfect for someone who wants to make a positive impact on the lives of others. It's a training to save lives!"
Dates and hours will be based on enrollments. For fees, scheduling, and other details, please call Helm at (856)691-0030, extension 109 or Mary Desjardins at extension 112.