Published: August 18, 2021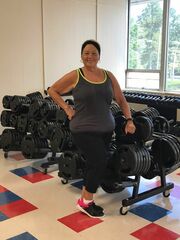 From her days as a seventeen year old Candy Striper until age fifty, her nursing profession was Nancy Galarza's pride and job. She worked in several facilities in the Vineland area and by 2002 was an active member of the Cumberland Cape Atlantic YMCA, even substituting as a group exercise instructor there. Through the Y she achieved her weight loss and fitness goals. This continued until the end of 2008, when heart trouble derailed her life. Her cardiologist told this nurse that "her working days were over."
The following years brought a cascade of health issues. Her pacemaker needed a new wiring surgery, she had two knee replacements and sinus infections, and she gained weight. During this period of setbacks, Galarza continued rehabilitation, but she sustained significant falls, plus her weight and cholesterol continued to climb.
When her weight reached a high of 253 pounds and she had fallen again, Galarza told herself, "I came to my senses."
Her response was to give herself a Christmas present of good health – a membership at the YMCA. "I felt comfortable coming in and signing up for a year," she said, adding, "I was so looking forward to seeing Pam."
Pam is Pam Heaton, the Cumberland Cape Atlantic YMCA's Healthy Living and Signature Program Coordinator. Heaton and Galarza had become friends when Nancy took Pam's YMuscle Max class at the Y nineteen years ago. Heaton was delighted at Galarza's return to the YMCA. She commented, "As we have seen members coming back to the Y since COVID regulations shut us down, it's been happy times. Seeing Nancy, though, was special for both of us."
Galarza admitted that the hardest hurdle is to begin a fitness program, and that was true for her. "At that time, I thought, 'I just have to come here to the Y, into this building.' The only place I felt comfortable was the Y." She says that she "started small" by enrolling first in a Chair Yoga class. This helped with her balance and postoperative knees. Next came membership in the Y's highly successful Diabetes Prevention Program. This features participant accountability and a new understanding of food and nutrition, reducing the effects of diabetes.
Heaton leads both of these programs. She praised Galarza's enthusiasm and commitment, saying, "Nancy is an inspiration to all. Chipping away at the many obstacles in front of her, Nancy changed her lifestyle and successfully lost forty-six pounds. She gained strength and mobility and has joined the Y Family in a healthy way of life. She is doing so well that we are planning to participate in a 5K walk/run together this fall. The YMCA is a great place to get started on your health journey."
Galarza is gradually utilizing the Y's John and Jana Scarpa Family Fitness Center and hopes to eventually use the Kontes Family Pool. She noted that, "Physically and mentally, I've benefited from my experiences at the Y. It's my comfort zone, and it's also been a major part of my recent reduction in the medicines I take. It's been a big success!" She cites the example that instead of taking blood thinners, she now can take a simple daily aspirin, an important change for the better. Her cholesterol has also dropped significantly.
The positive effects of the Y are shared by her brother, as well. "The success of the Y is true for my brother, whose quality of life has been greatly improved by using the pool," she said. She and her family live in Vineland, where she generously helps neighbor families and kids.
The former nurse stated, "I will always have accolades for the Y and great things to say about it. When you come here, you don't feel like, 'Oh my God, I'm obese!' because everyone is so friendly and helpful. And it sets an example of cleanliness."
For the future, Nancy Galarza foresees many health improvements. These include fewer medications, nutritional guidance, and increased exercise abilities, all thanks to the Y. "The YMCA has given me a better life," she said.