Published: December 27, 2021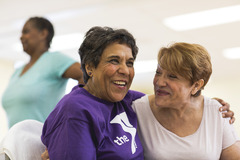 A new year is a perfect time to begin a new fitness regime. The Cumberland Cape Atlantic YMCA offers many ways for people of all ages to fulfill their resolutions and goals. Most of these activities begin during the week of January 3. Among the possibilities are swim lessons and teams, youth basketball, Ninja Junior, MVP Special Needs Youth Basketball, seminars, and group exercise classes.
The winter group exercise schedule typically runs from January 3 to February 26. Over forty classes are available. These include favorites such as yoga, Zumba, and Spinning, plus an assortment of new titles. These are DrumFIT, Chair Kickboxing, Dance with Strength, Gentle Stretch Yoga, and Circuit Training, both for Beginners and for Youth. The classes are open to individuals aged fifteen and older. Several of these are available virtually, as well as in person. The earliest classes begin at 6:00 a.m., and the latest end at 8:30 p.m.
The Youth Circuit Training Class is unique to the YMCA. It is specifically designed for youth aged eleven to fifteen. The class is an excellent introduction for kids/teens in that age group who would like more guidance on how to properly utilize strength training equipment.
The Y is additionally offering wellness seminars for the public. The dates will be announced soon and will focus on subjects of interest to area adults. These are led by Dr. Karishma Patel. Recent seminars have covered topics such as "fueling for strength," "what happens when we stop moving," and "stress management. The Diabetes Prevention Program will also start its next cycle for community members soon after the new year.
For more information about the YMCA, please check www.ccaymca.org or call (856)691-0030.