Published: March 4, 2022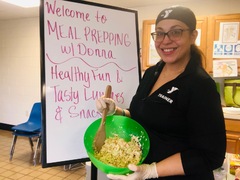 Get real life meal prepping and healthy cooking tips and tricks. Classes are available in person and via Zoom.
Class space is limited. Registration required.
Fees per class:
$7 Facility Member
$10 Program Member
$5 Virtual Participant (must be a Y Member)
March 12, 2022; 10am-11:30am
Eat this Not that… healthy alternatives to your favorite foods!
March 26, 2022; 10am-11:30am
Veggie Power… Vegetables are good for you, and taste good too!
April 9, 2022; 10am-11:30am
Guilt Free Desserts… because everyone deserves to indulge once in a while!
April 23, 2022; 10am-11:30am
One Pot or Pan Combos…cooking for a family in a hurry while staying healthy!