Published: March 14, 2022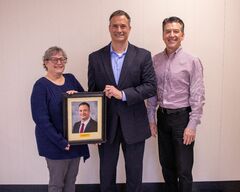 At the recent meeting of the Cumberland Cape Atlantic YMCA Board of Directors, the group honored its past president, Shayne Bevilacqua. He had served as president for two years, ending his term last month. His term marked by considerable progress, many successes, and significant COVID based challenges.
Bevilacqua has been on the YMCA Board since 2013. He praised his fellow Board members as well as the staff for their dedication to the Y and its importance to the community. He said, "I feel privileged to have had the opportunity to serve as president. People here at the YMCA grow to love and care for our community."
Y CEO George Steinbronn, Jr., thanked Bevilacqua for his time, efforts, and energy on behalf of the organization. "He always made the time to work with us," Steinbronn said. "The last two years have included many important achievements at the Y."
He unveiled the portrait of Bevilacqua that now hangs in the facility's Hall of Presidents. That display includes Board leaders dating from 1902. Steinbronn also presented him with a gavel plaque, an engraved clock, a YMCA mug and shirt, and a YMCA Past President's pin.
Bevilacqua's seat at the head of the table is now occupied by Kathy Farinaccio. She received a new YMCA Board President pin as part of the proceedings. She said, "I commend Shayne for steering the ship so well and supporting the Y so well."
The new president works as senior manager of Government Affairs for Comcast in Southern New Jersey. Farinaccio is a graduate of St. Joseph High School in Hammonton and of Glassboro State College. She was employed by several South Jersey newspapers prior to entering the cable television business in 1983. She joined Comcast in 2000 and has held varied positions there prior to her current role.
"Kathy Farinaccio exemplifies community involvement and leadership," Steinbronn said. "We are so pleased to have her as our Board president." Farinaccio is a past president of the Vineland Chamber of Commerce and has been involved with entities ranging from the Southern New Jersey Development Council to her church.
She was the recipient of the Washington Township Rotary Club's Employee of the Year Award for 2000-01, the Gloucester County Volunteer of the Year Award for the March of the Dimes in 2005, a Woman of Outstanding Achievement Recognition by the Girls Scouts of Camden County in 2006, the Vineland Rotary Club's Vocational Service Award in 2007, and the President's Volunteer Service Award in 2008.
Farinaccio and her husband, Vincent, reside in Minotola. She has two daughters and two grandchildren. In her leisure time, she enjoys spending time with her grandchildren, reading, and supporting Philadelphia sport teams.