Published: May 4, 2022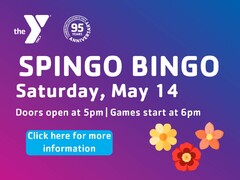 All adults over age twenty-one are invited to celebrate spring with a fun evening! Springo Bingo will be held on Saturday, May 14 at the Cumberland Cape Atlantic YMCA, located in Vineland at 1159 East Landis Avenue. The games will begin at 6:00 p.m. The doors will open an hour earlier. Entry includes ten games of bingo, bringing ten opportunities to win cash prizes and designer bags. Other chances to win include raffle baskets and 50/50 tickets. Tickets are on sale for $25.00 each. (Very) light refreshments will be complimentary. Extra daubers will be available for purchase.
Space is limited, so participants are encouraged to telephone the Y or stop at the lobby to purchase tickets. Groups of six or more are also encouraged to reserve seating by calling Simran Rattan at (856)691-0030, extension 118 or at srattan@ccaymca.org. For more information and details, please call the YMCA at (856)691-0030 or visit www.ccaymca.org.
Springo Bingo supports the YMCA's important Annual Giving Campaign.