Published: May 9, 2022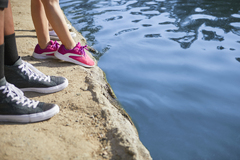 In the USA, two children die every day as a result of drowning. Research has shown that participation in swimming instruction can prevent this tragedy. Through the Safety Around Water Program, the Cumberland Cape Atlantic YMCA helps to prevent drowning. The class will be offered on five Fridays, from May 20 to June 17. It is for children aged five to twelve who are beginning swimmers or nonswimmers. The fee is $10.00 for all five weeks.
The program teaches kids and their families skills to prevent drowning. It is for all children but specifically targets minority and unserved populations. The goal is to make each participant able to jump, push, turn, grab, float, and swim.
Times vary according to age but range from 4:35 p.m. to 8:15 p.m. on the Fridays above. Each class lasts forty minutes. Space is limited, so registration is encouraged now. For more information, please call the YMCA at (856)691-0030 or www.ccaymca.org.