Published: October 14, 2022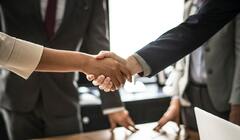 Several new members have been added to the Cumberland Cape Atlantic YMCA Board of Directors. At a recent Board meeting, president Kathy Farinaccio introduced David D'Onofrio, George LoBiondo, and Tony Quigley. Steve Schiavo was also named as a returning Board member. Farinaccio noted that each individual brings commendable competence and exceptional experience to the role. "We are pleased to welcome each of these fine individuals," she said.
D'Onofrio is the president of Stanker and Galetto, Incorporated. As a child, he played basketball and swam at the Y; as an adult, he was involved through his business in space conversion at the facility. He is a graduate of the University of Notre Dame and Philadelphia University (now Thomas Jefferson University). D'Onofrio has worked in the family business since 2010. Though currently a Haddonfield native, he said, "I'm interested in bettering our community and I believe that the Y is a great part of that. "
After working many years as Operations manager at LoBiondo Brothers Motor Express, LoBiondo served for ten years as director of Human Resources at the Cumberland County Guidance Center. He holds a Bachelor's degree from the College of William and Mary and a Juris Doctor degree from George Washington University. He has also been chairman of the City of Vineland Zoning Board. LoBiondo said, "My family have been Y members for years, taking advantage of the gym and healthy living opportunities, but I have learned that the Y is so much more. It is a critical community center, a hub for many valuable services. I look forward to helping it thrive." He is a lifelong Vineland resident.
Quigley is the director of Information Systems for the City of Vineland, a post he has held for two years. As a youth, he was a YMCA member and camper; as an adult, he has been active in many youth sports. Quigley was also part of Be the Change Philadelphia, through which he worked with business leaders to provide funding for that nonprofit program. He attended Seton Hall University. He commented, "I have worked with numerous charities in the past and look forward to helping the YMCA organization though my technical and community-minded background."
Schiavo has been involved with the YMCA for approximately forty years, with about thirty as a Board member. He has served in numerous roles over these decades and has been welcomed back enthusiastically. A Vineland resident, Schiavo is a financial adviser with Prudential. He said, "I am very glad to return to the Board: I know that the Y's good work is essential to our community."