Published: November 19, 2022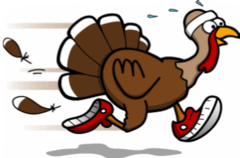 The annual Turkey Burner morning of exercise is set for Friday, November 25 at the Cumberland Cape Atlantic YMCA in Vineland. This program will help you to work off those extra calories from your delicious Thanksgiving feast and to face the holiday season merrily. The event is open to the public and includes seven classes, including one specifically for youth. These are scheduled over four time slots at the Y. Times are from 8:15 a.m. until 12:00 noon.
Participants may sign up for one or all of the classes. Preregistration is advised due to limited space. The roster is:
8:15 to 9:00 a.m. Spinning
9:15 to 10:00 a.m. Zumba or Spinning to the Oldies
10:15 to 11:00 a.m. Strong Nation or FUNctional Friday, For ages six to eighteen, Youth Sports Pickleball
11:15 to 12:00 p.m. DrumFIT
Turkey Burner is free for all YMCA facility members, $8.00 for program members, and $10.00 for the community.
For additional details, please contact the YMCA at 856-691-0030 or check the website, www.ccaymca.org.