Published: November 26, 2022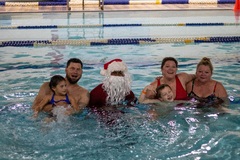 On Friday, December 9, from 6:30 to 8:00 p.m., families are invited to a festive evening of swimming, snacks, and crafts. This will be held at the Cumberland Cape Atlantic YMCA, in Vineland. Santa himself will make a guest appearance and take a dip in the Kontes Family Pool. This annual Swim with Santa event is open to Y members and to the community. This event is especially geared to families with children who are three and older. Registration is requested by Thursday, December 8.
The prices are all based on a family of four. The fee is $13.00 for community families; $11.00 for Y program members; and $6.00 for Y facility members. Each additional guest costs $2.00 more.
The evening also includes an optional Nerf Battles activity, which will be held from 5:30 to 6:15 p.m. This is for kids four years and older. Please bring your own Nerf blaster and safety goggles. Pricing is $10.00 per child for community and program members or $5.00 for Y facility members.
During the holiday season, the YMCA also hosts an annual food drive to benefit our area's families. Participants in the "Swim with Santa" evening are encouraged to bring a nonperishable food item or household supply product to be donated through the YMCA to a local family in need.
For specific details and pool guidelines, please call the YMCA at (856)691-0030 or check www.ccaymca.org.