Published: December 8, 2022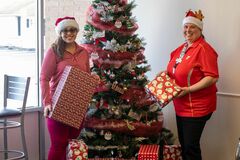 Entering our fourth year, our annual Bless It Forward holiday donation drive is geared towards those in our community who are struggling this holiday season. We invite our community, whether they are Y members or not, to fill out an application expressing their need/situtation and provide details of items that they may need. Our Y secures donations through our members, staff and community partners either of goods or monetary donations to support all those that apply. We strive to assist every application that is submitted! Donations include non-perishable food items, toys, household products, and clothing.
Over the course of the past three years, we have assisted an estimated 80 families, totaling over 325 individuals with toys, food and clothing. This year our goal is to provide support for 95 families, in honor of our 95th anniversary in the community. If you wish to help provide support, donations can be dropped off to the Y at any time. Monetary donations can be made in person at the Y, or by calling over the phone. We appreciate any support!
As of 12/14/22 the Bless It Forward application process has closed. Thank you to all who applied and donated!
If you have any questions, please email support@ccaymca.org or msengage@ccaymca.org
Merry Christmas and Happy Holidays!