Published: April 12, 2023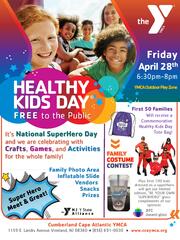 Healthy Kids Day will be a celebration of National Super Hero Day at the Cumberland Cape Atlantic YMCA on Friday, April 28. This annual event is free and open to the public. The Y's 2023 Healthy Kids Day not only has this new theme, but it will be held at new evening hours. The time will be 6:30 to 8:00 p.m. It will take place at the YMCA's large Outdoor Play Zone, located by the building at 1159 East Landis Avenue, in Vineland.
The celebration will include crafts, games, a family photo area, vendors, snack, and prizes. A family costume contest will also be part of the fun. The first fifty families to attend will receive a commemorative Healthy Kids Day tote bag. The first one hundred kids to come dressed as a superhero will additionally get a limited edition "be your own superhero" glass. This are available through the generous sponsorship of arc Durand glass. There will even be a Super Hero Meet and Greet activity.
A free community swim will be available from 7:15 to 8:15 p.m. during the evening. Preregistration is required by 7:00 that night. A parent must accompany any child under ten years of age; no more than two children per adult are permitted in the water.
Prior to the Healthy Kids Day festivities described above, there will be a special underwater adventure called "Namor's Vibranium Dive." This is exclusively for ten to thirteen year old YMCA facility and program members. The fee is $3.00 or $5.00 according to membership.
For more details, please call the YMCA at (856)691-0030 or check www.ccaymca.org.