Published: May 2, 2023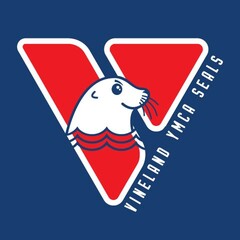 Swimmers from the Cumberland Cape Atlantic YMCA have enjoyed big successes at recent meets. Early in April they attended the Middle Atlantic Silver Championships at the University of Delaware as well as the Destination Athlete Celebration National Invite at Centennial Park Pool in Port Charlotte, Florida. Both meets included prelims in the morning or early afternoon plus finals in the evening for the top eight or sixteen swimmers.
At Middle Atlantic Silver Championships, nineteen Seals ages eleven to eighteen competed. The Seals swam in seventy-one events and did a best time in forty-seven events. Swimmers made it to the finals in eleven events.
Thomas Masucci won the 11-12 Boys' High Point Award. He was awarded the Meet High Point Winner Overall, including all ages. Masucci eared this honor by making six finals and placing first four times.
At the Centennial National Invite in Port Charlotte, Florida, twelve Vineland YMCA Seals participated. They ranged in age from nine to seventeen. They placed sixth out of eighteen teams. This group raced 102 times and did a best time in ninety-five of those swims. They made the finals a total of fifty-four times.
Sydney Doyle finished first in the fifty meter butterfly. Dalton Maldonado finished in first place in the 200 meter individual medley.
The Y's Head Swim Coach, Michael Blacksten, was enthusiastic about the results. He said, "We did amazingly well in the pool. However, it was what we're accomplishing out of the pool that I'm most proud of. For example, some of the younger swimmers wrote tributes to senior swimmers. This kind of camaraderie among teammates is wonderful to see. Trips like these two meets help foster this environment and so much more between the kids."
To learn more about the Cumberland Cape Atlantic YMCA, please call Blacksten at (856)691-0030 extension 156 or check www.ccaymca.org.