Published: June 3, 2021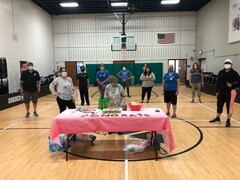 The New Jersey Association of Community Providers 2021 STARS award has been given to Leda Kozakoff, of Millville. This was presented at the Cumberland Cape Atlantic YMCA, where Kozakoff works. She is employed through Delta Community Supports, which provides services for people with intellectual and developmental disabilities.
Kozakoff was recently surprised with a party in her honor at the YMCA. She was grateful for the recognition, as the Y is like an extended family for her.
Joy Butler, of Delta, nominated Kozakoff for this distinction. She noted, "Leda truly loves her job and is so loved by the staff and the patrons at the YMCA."
Butler has known Kozakoff since the former's two children had wonderful experiences with Child Care at the Y, when they initially met Kozakoff. Now those kids are lifeguards at the Kontes Family Pool. "It was clear to me that a bond had been made between my children and Leda, and little did I know that bond would last a lifetime," said Butler. She continued, "The bond between them is now stronger than ever."
Cara Morello, senior director of Administration/Operations, also praised Kozakoff. She said, "There are many employees at the Y who have made an impact over the years, but none can compare to Leda. She is in her twenty-eighth year here, and we cannot imagine the Y without her. Leda is an integral part of daily YMCA life, and we would not be as strong as we are without her."