Published: June 29, 2021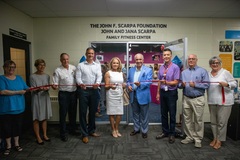 The John F. Scarpa Foundation – John and Jana Scarpa Family Fitness Center was dedicated on Thursday, June 24 at the Cumberland Cape Atlantic YMCA as the organization's board of directors, staff and facility members gathered with philanthropist John F. Scarpa and his wife, Jana, to cut the ribbon. Scarpa, a Vineland native, has given back to his hometown in a most meaningful way as he pledged $100,000 to the YMCA last year. These funds were used to purchase state-of-the-art equipment to meet the changing needs of Y members. The YMCA is unique in its approach to promoting health for children with their parents, especially working out together in the newly renamed John and Jana Scarpa Family Fitness Center.
The YMCA renamed its fitness center in recognition of the Scarpa's gift immediately prior to what became several months of mandated shutdown of the Y's fitness activities due to COVID regulations in the Spring of 2020. While the facility was temporarily closed, the staff shifted focus to providing other community services, such as food distribution, virtual learning support for students, wellness checks, and live-streaming classes.
"The Y promotes exercise for people of all ages and backgrounds," stated YMCA CEO George Steinbronn, Jr. "Thanks to John and Jana Scarpa, our fitness center has all new, upgraded cardio equipment, such as treadmills, elliptical trainers, and various bikes. Some pieces are unique to our area, especially those for kids," he said. "Over the years, community and YMCA members have had interests that change with the times, and this gift allows us to adapt to this evolution. We are delighted!"
"Now that the Y is back to nearly full programming and service, we invite members of the community to come out and make our new state-of-the-art equipment part of their fitness routine, thanks to this generous gift from the Scarpas," noted Steinbronn.
A true nonprofit, the YMCA has served the greater Vineland area for over 90 years. The organization strives to strengthen the community through advancing youth development, healthy living, and social responsibility. Current Board president Shayne Bevilacqua said, "We thank John and Jana Scarpa for supporting our YMCA's programs and initiatives that will help to make this area healthier. Their generosity is an inspiring example of giving that truly makes a difference. We are very grateful."
"My wife Jana and I, through The John F. Scarpa Foundation, proudly support healthcare, education and disadvantaged families," stated John Scarpa. "We remain committed to support the Cumberland Cape Atlantic YMCA in Vineland to fulfill their mission of youth development, healthy living and social responsibility." He recalled that he used the Y when he lived in Vineland and played tennis there frequently with his brother, Joe, and many local tennis players.
Mr. Scarpa was an entrepreneur in the cable television and cellular telephone communication industries. He was co-founder, President and COO of American Cellular Network Corp., licensed to operate cellular telephone systems in the northeastern United States. Mr. Scarpa is credited with having the first publicly traded cellular company in the U.S. and established the first interstate connection for cellular service between Pennsylvania, New Jersey and Delaware. As co-founder of Unitel Wireless Communication Systems, Mr. Scarpa also developed and operated cellular telephone systems throughout the United States and was one of the original members of the nationwide Cellular One Network. He furthered his entrepreneurial skills in the Internet arena as well, by playing an instrumental role in the launch of the Internet service provider, Earthlink.
The John F. Scarpa Foundation has made vital donations to entities in New Jersey, Pennsylvania, and Florida. It supports healthcare, education, and disadvantaged families, causes that are all shared by the YMCA. Mr. Scarpa is the principal benefactor for the Frank and Edith Scarpa Regional Cancer Center at Inspira Medical Center Vineland and the Edith Favretto Scarpa Arts and Sciences Building at Saint Augustine Preparatory School in Richland. He is also the principal benefactor of the John F. Scarpa Technical Education center of Cumberland County.
The Cumberland Cape Atlantic YMCA is located in Vineland. In addition to fitness, exercise, and aquatics programs, it provides specialized support for cancer and diabetes participants. The Y's Camp Merrywood has operated in Pittsgrove Township since 1955. The Y's before- and after-school curricula serve three counties. It also provides healthy community events throughout the year. In 2001, the organization changed its name to Cumberland Cape Atlantic YMCA to reflect its outreach to neighboring counties.