Published: December 14, 2022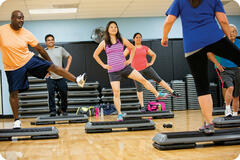 "Be healthy, be strong, and belong" is the theme of the winter group exercise schedule at the Cumberland Cape Atlantic YMCA. Classes typically run for eight weeks, beginning on January 2 and ending on February 26. Most classes meet one or two times per week. The earliest starts at 5:45 a.m. and the latest ends at 8:30 p.m.
There are over forty programs, ranging from various forms of Yoga to Spinning and other cardio options. New this session are additional options for older, active adults as well two strength classes. YMCA members aged fifteen and older are invited to participate in the group exercise classes.
The YMCA also offers ten live virtual classes. These include DrumFIT, Chair DrumFIT, numerous Yoga classes, and Enhance Fitness, plus two types of Zumba.
The classes are free to YMCA facility members. Click here to learn more about our Group Exercise Classes!
For details, please call (856)691-0030 or check www.ccaymca.org.